Modern Pentathlon at the Youth Olympic Games 2018: All You Need to Know
BUENOS AIRES, ARGENTINA: October 11, 2018 – In the next three days the new Youth Olympic Games champions in Modern Pentathlon will be crowned during the climax of the individual competitions at Youth Olympic Park in Buenos Aires (ARG).
The best female and male athlete will ascend the podium following in the footsteps of Leydi Moya of Cuba and Kim Dae-Beom of Korea (Singapore 2010), Zhong Xiuting of China and Alexander Lifanov of Russia (Nanjing 2014).
After that, the competition will open up for two days and the most unique aspect of pentathlon at the Youth Olympic Games will be displayed to the world: the mixed international team event.
This is the only time at a global competition that athletes are drawn from different nations and invited to team up, allowing cross-border unions to form in a spirit of solidarity and collaboration.
In 2010, the winners of mixed international team gold were Anastasiya Spas of Ukraine and Ilya Shugarov (RUS), and four years later it was Marie Teixeira of Portugal and Anton Kuznetsov (UKR).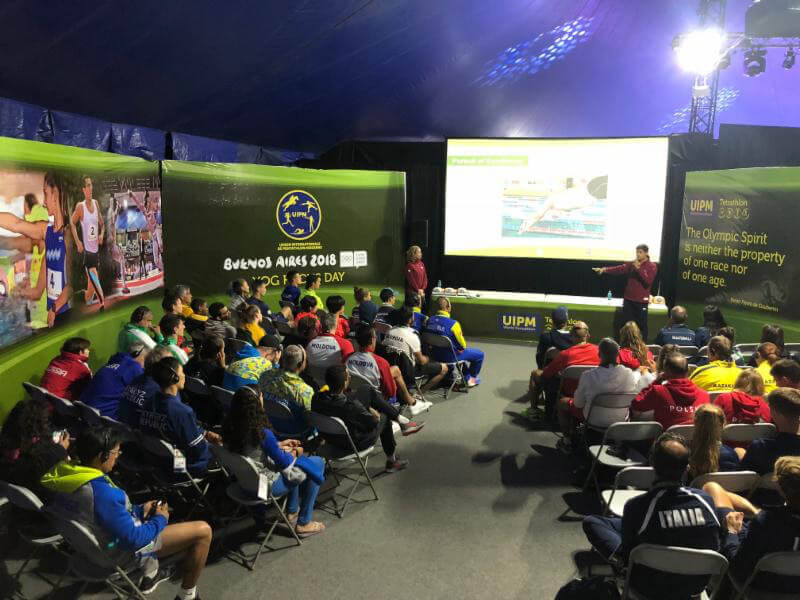 Athletes role models Yane Marques (BRA) and Charles Fernandez (GUA) speaking during Focus Day
A record 31 nations will be represented in the 2018 competition, which takes the form of Tetrathlon (Swimming, Fencing and Laser-Run) and which begins tomorrow (October 12) with the Men's and Women's Fencing Ranking Rounds.
The 48 competing athletes have qualified through continental qualifying events, a global rankings system and the UIPM 2018 Under 19 Tetrathlon World Championships.
A truly diverse range of nations, representing all of UIPM's continental confederations, will be represented in Buenos Aires, with the likes of Moldova, Venezuela, Chinese Taipei and Kyrgyzstan competing with established pentathlon strongholds such as Egypt, France, Russia and China.
Martina Armanazqui and Franco Santiago Serrano will have the honour of flying the flag for the home nation, Argentina.
Ahmed Elgendy of Egypt will be one of the athletes to watch at the end of an extraordinary season in which he became UIPM Men's Individual world champion at Under 19 and Junior (Under 21) level, among numerous other achievements.
Viacheslav Malishev, UIPM Executive Board Member for Development, said: "It will be a wonderful thrill to see these 48 athletes compete in the Buenos Aires 2018 Youth Olympic Games in the individual competitions and the mixed international team event.
"These athletes, 24 young women and 24 young men, have demonstrated their commitment to Modern Pentathlon and proved their ability at national, continental and global level. Now they will have the chance to compete for the ultimate prize of Olympic medals and gain valuable experience.
"The UIPM development programme is producing great results worldwide thanks to the support provided to National Federations and Continental Confederations and development initiatives like the Global Laser Run City Tour.
"More and more people from communities across the world are being introduced to the UIPM Sports movement and this is resulting in a larger pool of athletes at elite level."
UIPM President Dr Klaus Schormann added: "Modern Pentathlon has been part of the programme of every Youth Olympic Games, in Singapore (2010), Nanjing (2014) and now Buenos Aires (2018).
"Today we see many medallists and other athletes who have participated in the Youth Olympic Games emerging as senior athletes. Some of them already competed at the Olympic Games and they are all aiming to qualify for Tokyo 2020.
"UIPM's global development programme has grown rapidly in recent years and one of the results of this is a higher standard of youth athletes, which we have seen during the qualification period for Buenos Aires 2018.
"My congratulations go to all 48 athletes who have qualified and I wish them and their support teams the very best of luck."
The Games began on October 6 with the opening ceremony and conclude on October 18. The 4th Youth Olympic Games will take place in Dakar, Senegal – the first-ever African host of an Olympic Games.
Youth Olympic Games 2018: Modern Pentathlon schedule
All times local; CEST-5
Friday October 12
Women's Fencing Ranking Round (10am)
Men's Fencing Ranking Round (2pm)
Saturday October 13
Women's Swimming (12pm)
Women's Fencing Bonus Round (2.30pm)
Women's Laser Run (4pm)
Sunday October 14
Men's Swimming (12pm)
Men's Fencing Bonus Round (2.30pm)
Men's Laser Run (4pm)
Monday October 15
Mixed International Team Fencing Ranking Round (12pm)
Tuesday October 16
Mixed International Team Swimming (12pm)
Mixed International Fencing Bonus Round (2pm)
Mixed International Laser Run (4pm)
About UIPM
UIPM (the Union Internationale de Pentathlon Moderne) has governed the core Olympic sport of Modern Pentathlon since its formation in 1948. Today it oversees a range of multi-discipline sports (Tetrathlon, Laser Run, Biathle/Triathle and World Schools Biathlon) which form a development pyramid with Modern Pentathlon at the top.
About Modern Pentathlon
Created especially for the Modern Olympic Games by its founder, Baron Pierre de Coubertin, the sport was introduced in Stockholm in 1912 and has been the climax of the Games ever since. The format has been adapted to suit the 21st century and the Modern Pentathlon now consists of Fencing, Swimming, Horse Riding and Laser Run (running/shooting).
For more information, please contact:
Florent BOAS, UIPM Media
media@pentathlon.org